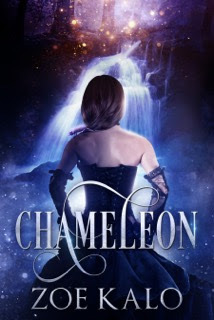 Chameleon
by Zoe Kalo
Publication Date:
February 2017
Publisher: Age Group:
Young Adult | Ghost
Pages:
Overall:
★
★
★
✩
✩
17-year-old Paloma only wanted to hold a séance to contact her dead father. She never thought she would be kicked out of school and end up in an isolated convent. Now, all she wants is to be left alone. But slowly, she develops a bond with a group of girls: kind-hearted Maria, insolent Silvy, pathological liar Adelita, and their charismatic leader Rubia.
When, yet again, Paloma holds a séance in the hope of contacting her father, she awakens an entity that has been dormant for years. And then, the body count begins. Someone doesn't want the secret out…

Are the ghost and Paloma's suspicions real—or only part of her growing paranoia and delusions?
I want to be completely honest with this review. I absolutely adore this cover, it is so beautiful but I don't get how it ties to the actual story itself, even though it helps to give off the creepy gothic feel that the story has and has a waterfall on it. This book was the kind of book that has a bit of a slow start up to try and build suspense, and of course give back story, but then as things start to pick up this book really draws you in.
The premise of the story is something that I don't feel like I've seen done a whole lot, which makes this story super unique. You do have one main character that we're following with Paloma, but out of the other four girls, they're all very unique and extremely interesting to learn about and get to know and see their character development. The group of girls reminds me of typical high school girl groups. You have one girl leader that calls the shots and controls the other girls, and the others tend to follow blindly. But now with a new girl in the mix who starts to question the leader, it becomes more obvious of what the leader is capable of.
The way that Zoe paints the school is essentially what I would picture a convent to be like. It seems like a spooky isolated place where the nuns are extremely strict and at times can be cruel. I feel like the scenery adds to the feeling of the story and builds the suspense.
During the story we are kept on our toes and find ourselves constantly asking, what's going to happen next. It's like an onion, so many different layers that cause us to think about so many different aspects at once. I do have to say, there has got to be another book to go with this, because I feel like there are so many questions that I still have that I need to know what happens. If suspense and paranormal is what you like, then I suggest that you give this book a go, because you will not be dissapointed.