Hey Everyone! So I cannot believe April is over and it's already gonna be May tomorrow. I also realized that I forgot to take a group photo of all the books I read before I took them back to the library so I'm pretty disappointed in myself for that. So instead of sharing a picture of all the lovely (ish) books that I read this month, let me share with you my newest favorite meme for this time of year.
I really do hope that you get it, and the fact that someone updated it had me rolling on the floor laughing. It's the funniest thing, especially since I'm a 90's kid and grew up with N'sync. Anywho, let's go ahead and get in to all the books I read this month. So hopefully when I get reviews up I will link them on the star ratings, so if you want to see what I thought of the book click there, if you want to see the goodreads page that will be linked on the title of the book. With that being said, let's get in to the whopping TEN books that I read this month, only going up from here!!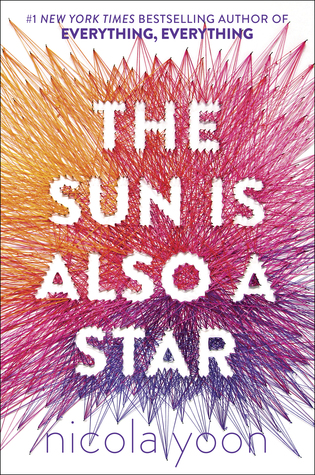 The Sun Is Also A Star
by Nicola Yoon
Rating:
★
★
★
✩
✩
Natasha: I'm a girl who believes in science and facts. Not fate. Not destiny. Or dreams that will never come true. I'm definitely not the kind of girl who meets a cute boy on a crowded New York City street and falls in love with him. Not when my family is twelve hours away from being deported to Jamaica. Falling in love with him won't be my story.

Daniel: I've always been the good son, the good student, living up to my parents' high expectations. Never the poet. Or the dreamer. But when I see her, I forget about all that. Something about Natasha makes me think that fate has something much more extraordinary in store—for both of us.

The Universe: Every moment in our lives has brought us to this single moment. A million futures lie before us. Which one will come true?
Kill The Boy Band by Goldy Moldavsky
Rating:
★
★
★
★
✩
Just know from the start that it wasn't supposed to go like this. All we wanted was to get near them. That's why we got a room in the hotel where they were staying.
We were not planning to kidnap one of them. Especially not the most useless one. But we had him—his room key, his cell phone, and his secrets.
We were not planning on what happened next.
We swear.
Simon vs. The Homos Sapiens Agenda by Becky Albertalli
Rating:
★
★
★
★
★
Sixteen-year-old and not-so-openly gay Simon Spier prefers to save his drama for the school musical. But when an email falls into the wrong hands, his secret is at risk of being thrust into the spotlight. Now Simon is actually being blackmailed: if he doesn't play wingman for class clown Martin, his sexual identity will become everyone's business. Worse, the privacy of Blue, the pen name of the boy he's been emailing, will be compromised.

With some messy dynamics emerging in his once tight-knit group of friends, and his email correspondence with Blue growing more flirtatious every day, Simon's junior year has suddenly gotten all kinds of complicated. Now, change-averse Simon has to find a way to step out of his comfort zone before he's pushed out—without alienating his friends, compromising himself, or fumbling a shot at happiness with the most confusing, adorable guy he's never met.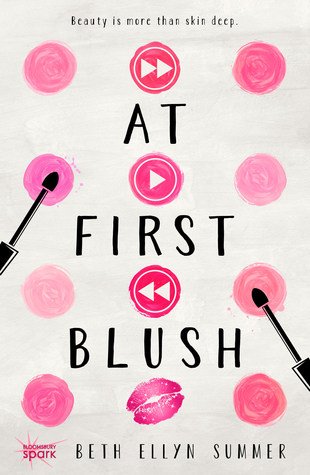 At First Blush by Beth Ellyn Summer
Rating:
★
★
★
★
✩
Who would have thought that a teenager could have a successful career creating makeup tutorial videos on YouTube? For Lacey Robbins, this dream has been her reality. An up-and-coming YouTuber, she has thousands of fans and can't wait for the day when her subscriber count reaches the one million mark. And when she is offered a high school internship at On Trend Magazine, she figures that this could be the make it or break it moment.
But sometimes your dream job isn't all that it seems. Her editor is only interested in promoting junk products, and her boss in the Hair and Makeup department introduces her to the larger world of makeup artistry, making her wonder if making tutorials online is all she is meant to do. To top it all off, when the magazine's feature subject , musician Tyler Lance, turns his broodingly handsome smile her way, falling for him could mean losing her fans, forcing her to make a decision: her YouTube life or her real life?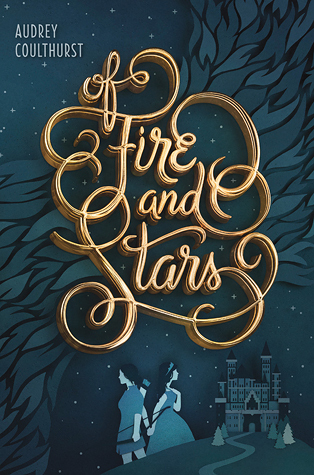 Of Fire And Stars by Audrey Coulthurst
Rating:
★
★
★
★
✩
Betrothed since childhood to the prince of Mynaria, Princess Dennaleia has always known what her future holds. Her marriage will seal the alliance between Mynaria and her homeland, protecting her people from other hostile lands. But Denna has a secret. She possesses an Affinity for fire—a dangerous gift for the future queen of a kingdom where magic is forbidden.
Now, Denna must learn the ways of her new home while trying to hide her growing magic. To make matters worse, she must learn to ride Mynaria's formidable warhorses—and her teacher is the person who intimidates her most, the prickly and unconventional Princess Amaranthine—called Mare—the sister of her betrothed.
When a shocking assassination leaves the kingdom reeling, Mare and Denna reluctantly join forces to search for the culprit. As the two become closer, Mare is surprised by Denna's intelligence and bravery, while Denna is drawn to Mare's independent streak. And soon their friendship is threatening to blossom into something more.
But with dangerous conflict brewing that makes the alliance more important than ever, acting on their feelings could be deadly. Forced to choose between their duty and their hearts, Mare and Denna must find a way to save their kingdoms—and each other.
The Female of the Species by Mindy McGinnis
Rating:
★
★
★
★
✩
Alex Craft knows how to kill someone. And she doesn't feel bad about it. When her older sister, Anna, was murdered three years ago and the killer walked free, Alex uncaged the language she knows best. The language of violence.
While her crime goes unpunished, Alex knows she can't be trusted among other people, even in her small hometown. She relegates herself to the shadows, a girl who goes unseen in plain sight, unremarkable in the high school hallways.
But Jack Fisher sees her. He's the guy all other guys want to be: the star athlete gunning for valedictorian with the prom queen on his arm. Guilt over the role he played the night Anna's body was discovered hasn't let him forget Alex over the years, and now her green eyes amid a constellation of freckles have his attention. He doesn't want to only see Alex Craft; he wants to know her.
So does Peekay, the preacher's kid, a girl whose identity is entangled with her dad's job, though that does not stop her from knowing the taste of beer or missing the touch of her ex-boyfriend. When Peekay and Alex start working together at the animal shelter, a friendship forms and Alex's protective nature extends to more than just the dogs and cats they care for.
Circumstances bring Alex, Jack, and Peekay together as their senior year unfolds. While partying one night, Alex's darker nature breaks out, setting the teens on a collision course that will change their lives forever.
Textrovert by Lindsey Summer
Rating:
★
★
★
★
✩
It's bad enough when high-school senior Keeley grabs the wrong phone while leaving her small town's end-of-summer fair. It's even worse when she discovers that the phone she now has belongs to the obnoxious, self-centered Talon and that he's just left for football camp … with her phone. Reluctantly, the two agree to forward messages for a week. And as Keeley gets to know Talon, she starts to like him. Keeley learns there's more to Talon than the egocentric jock most people see. There's more to Keeley, too. Texting Talon, she can step out of the shadow of her popular twin brother. Texting Talon, she can be the person she's always wanted to be.
Sparks fly when the two finally meet to exchange their phones. But while Keeley has been playing a part online, Talon has been keeping a secret. He has a different connection to Keeley — one that has nothing to do with phones, and one that will make their new relationship all but impossible. Knowing what she now knows, can Keeley trust him? And can love in the present erase mistakes of the past?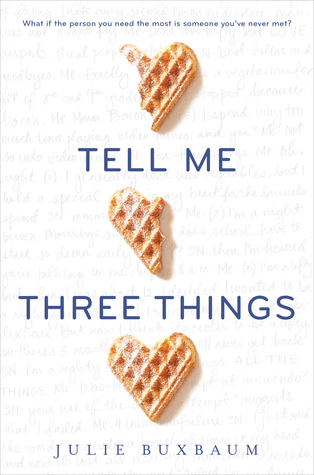 Tell Me Three Things by Julie Buxbaum
Rating:
★
★
★
★
★
Everything about Jessie is wrong. At least, that's what it feels like during her first week of junior year at her new ultra-intimidating prep school in Los Angeles. Just when she's thinking about hightailing it back to Chicago, she gets an email from a person calling themselves Somebody/Nobody (SN for short), offering to help her navigate the wilds of Wood Valley High School. Is it an elaborate hoax? Or can she rely on SN for some much-needed help?
It's been barely two years since her mother's death, and because her father eloped with a woman he met online, Jessie has been forced to move across the country to live with her stepmonster and her pretentious teenage son.
In a leap of faith—or an act of complete desperation—Jessie begins to rely on SN, and SN quickly becomes her lifeline and closest ally. Jessie can't help wanting to meet SN in person. But are some mysteries better left unsolved?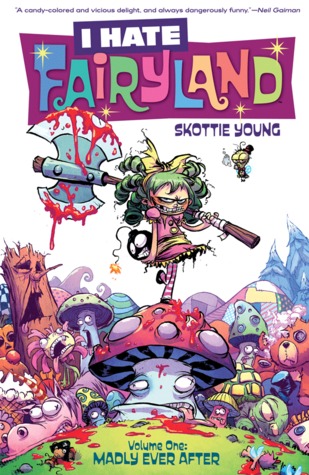 I Hate Fairyland Volume One by Skottie Young
Rating:
★
★
★
★
★
From superstar writer and artist Skottie Young (
Rocket Raccoon
,
Wizard of OZ
,
Fortunately, The Milk
), comes the first volume of an all-new series of adventure and mayhem.
An Adventure Time/Alice in Wonderland-style epic that smashes its cute little face against grown-up, Tank Girl/Deadpool-esque violent madness. Follow Gert, a forty year old woman stuck in a six year old's body who has been trapped in the magical world of Fairyland for nearly thirty years. Join her and her giant battle-axe on a delightfully blood-soaked journey to see who will survive the girl who HATES FAIRYLAND.
Collecting: I Hate Fairyland 1-5
Rating:
★
★
★
★
★
All hail Gertrude, the new Queen of Fairyland. After thirty years of wreaking havoc across this magical world to find her way back home, she must now overcome her biggest challenge yet... ruling the place she hates most. Join Gert as she continues her never-ending quest to get the FLUFF out of Fairyland. The hilariously brutal Fairytale adventure continues by superstar cartoonist SKOTTIE YOUNG. Collects issues 6-10.
Another Month, Another Wrap Up. How much did you guys get read this month? I'll be honest, I wish I could have gotten more read. I need to use more of my free time to read my books instead of watching Booktube about books I don't have!