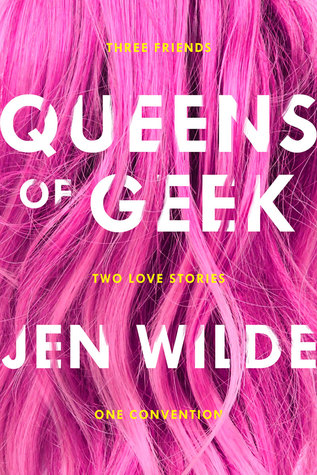 Queens of Geek
by Jen Wilde
Publication Date:
March 14th 2017
Publisher:
Swoon Reads
Age Group:
Young Adult | Contemporary
Pages:
288
Overall:
★
★
★
★
★
When BFFs Charlie, Taylor and Jamie go to SupaCon, they know it's going to be a blast. What they don't expect is for it to change their lives forever.
Charlie likes to stand out. SupaCon is her chance to show fans she's over her public breakup with co-star, Reese Ryan. When Alyssa Huntington arrives as a surprise guest, it seems Charlie's long-time crush on her isn't as one-sided as she thought.
While Charlie dodges questions about her personal life, Taylor starts asking questions about her own.
Taylor likes to blend in. Her brain is wired differently, making her fear change. And there's one thing in her life she knows will never change: her friendship with Jamie—no matter how much she may secretly want it to. But when she hears about the Queen Firestone SupaFan Contest, she starts to rethink her rules on playing it safe.
I have never read a book that I have connected with one of the main characters so deeply as I did with Queens of Geek. In Queens of Geek we follow three friends. Charlie, who is a break out actress with a blossoming Youtube channel, Jamie, who is in love with pretty much all things comics, and Taylor, who's one life goal is to meet the author of her all time favorite book series. I'm sure it's pretty easy to pick out who I connected with most considering, hello, I love to read. But I feel like Taylor was so similar to myself in so many more different ways that I just had to keep reading.
Seeing Taylor have to work through not only panic attacks but also her social anxiety was kind of tough to get through because I know how those things feel. But being able to see, that with some support, she was able to get through everything that her anxiety threw at her, is a really hopeful thing to see. I know all to well how depression and anxiety works and I think Jen did a really great job at describing and expressing exactly what it feels like in those moments of an attack and what you think is going on in the world even though most of it is made up in your head.
If you're a fellow nerd, like myself, then you will have the most fun reading this book. There are so many nerdy references all through it! The way that things were mentioned made me really feel that these three kids were the ultimate nerds just like I am, and kind of made me proud to be such a nerd too. Seeing what they liked and how excited they were for a con and cosplaying made me just love them as smol little beans.
Now of course we know we have two love stories in this book. I did like one more than the other but I think that's because I connected with Taylor more. That's not to say that I did not love seeing Charlie's relationship too. I felt so proud for Charlie once she decided that Reese wasn't worth any more of her time. Also seeing Reese all throughout this book just made me angry for Charlie and I wasn't able to pretend to ever be a Chase stan. So when she see's Alyssa and you learn of Charlie's crush the whole time I just felt myself cheering her on. To watch what unfolds between the two and how it happens just made my heart so happy.
But then you have Taylor and Jamie. Oh such precious little creatures. These two have been friends for years and are essentially the same people. They both love Queen Firestone, Jamie supports Taylor through her tough mental breakdowns, and Taylor geeks out at all the things that Jamie loves. Seeing the two of them blossom and realize "Hey I'm not the only one crushing here" was just so, ugh, perfect. I also loved the fact that Charlie was rooting them on the whole time too.
To be completely honest I see myself having to reread this somewhere here in the near future. I have never read through a book that has made me want to highlight and tab specific things as much as this book had, just so I could go back and relive certain moments or certain things that were mentioned. I would suggest this book to absolutely everyone that has ever slightly considered themself a nerd. To be honest, you probably don't even need to be a nerd to appreciate these characters and their time at SupaCon. So needless to say, if you haven't read this book yet, go do it!