Hey Everyone and welcome back to my blog! I hope you're having an amazing day. Today I wanna show off the books that I was able to read in the month of March. I've actually been pretty lucky, because these books were read mostly in the past 2 weeks, because I'd been so behind on reading, so I'm pretty proud of myself even though it's only a total of 5 books. Something is better than nothing right! Next month we'll have to aim higher with out TBR. Reviews for all of these books will be coming out soon, but I'll list my rating as well as the synopsis of the books so if you're not sure what they're about you can get a bit of an idea and see how I felt about it. So let's get in to the books.
The Assassin's Game
by Kirsty McKay
Rating:
3.5/5
Who will be left after lights out?
Tag, you're it…

It's 4:00 a.m. when they come for me. I am already awake, strung out on the fear that they will come, and the fear that they won't. When I finally hear the click of the latch on the dormitory door, I have only a second to brace myself before—
At Cate's isolated boarding school, Killer is more than a game—it's an elite secret society. Members must avoid being "Killed" during a series of thrilling pranks, and only the Game Master knows who the "Killer" is. When Cate's finally invited to join the Assassins' Guild, she know it's her ticket to finally feeling like she belongs.
But when the game becomes all too real, the school threatens to shut it down. Cate will do anything to keep playing and save the Guild. But can she find the real assassin before she's the next target?
Rating: 4.25/5
When Autumn Collins finds herself accidentally locked in the library for an entire weekend, she doesn't think things could get any worse. But that's before she realizes that Dax Miller is locked in with her. Autumn doesn't know much about Dax except that he's trouble. Between the rumors about the fight he was in (and that brief stint in juvie that followed it) and his reputation as a loner, he's not exactly the ideal person to be stuck with. Still, she just keeps reminding herself that it is only a matter of time before Jeff, her almost-boyfriend, realizes he left her in the library and comes to rescue her.
Only he doesn't come. No one does.
Instead it becomes clear that Autumn is going to have to spend the next couple of days living off vending-machine food and making conversation with a boy who clearly wants nothing to do with her. Except there is more to Dax than meets the eye. As he and Autumn first grudgingly, and then not so grudgingly, open up to each other, Autumn is struck by their surprising connection. But can their feelings for each other survive once the weekend is over and Autumn's old life, and old love interest, threaten to pull her from Dax's side?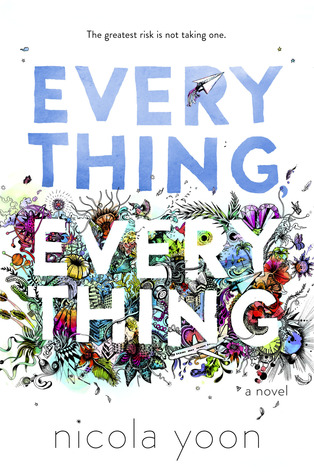 Rating: 5/5
My disease is as rare as it is famous. Basically, I'm allergic to the world. I don't leave my house, have not left my house in seventeen years. The only people I ever see are my mom and my nurse, Carla.

But then one day, a moving truck arrives next door. I look out my window, and I see him. He's tall, lean and wearing all black—black T-shirt, black jeans, black sneakers, and a black knit cap that covers his hair completely. He catches me looking and stares at me. I stare right back. His name is Olly.

Maybe we can't predict the future, but we can predict some things. For example, I am certainly going to fall in love with Olly. It's almost certainly going to be a disaster.
Rating: 3.75/5
This morning, Kady thought breaking up with Ezra was the hardest thing she'd have to do. This afternoon, her planet was invaded.
The year is 2575, and two rival megacorporations are at war over a planet that's little more than an ice-covered speck at the edge of the universe. Too bad nobody thought to warn the people living on it. With enemy fire raining down on them, Kady and Ezra—who are barely even talking to each other—are forced to fight their way onto an evacuating fleet, with an enemy warship in hot pursuit.
But their problems are just getting started. A deadly plague has broken out and is mutating, with terrifying results; the fleet's AI, which should be protecting them, may actually be their enemy; and nobody in charge will say what's really going on. As Kady hacks into a tangled web of data to find the truth, it's clear only one person can help her bring it all to light: the ex-boyfriend she
swore
she'd never speak to again.
Gemina by Amie Kaufman and Jay Kristoff
Rating: 4.25/5
Moving to a space station at the edge of the galaxy was always going to be the death of Hanna's social life. Nobody said it might actually get her killed.
The sci-fi saga that began with the breakout bestseller
Illuminae
continues on board the Jump Station
Heimdall
, where two new characters will confront the next wave of the BeiTech assault.
Hanna is the station captain's pampered daughter; Nik the reluctant member of a notorious crime family. But while the pair are struggling with the realities of life aboard the galaxy's most boring space station, little do they know that Kady Grant and the
Hypatia
are headed right toward
Heimdall
, carrying news of the Kerenza invasion.
When an elite BeiTech strike team invades the station, Hanna and Nik are thrown together to defend their home. But alien predators are picking off the station residents one by one, and a malfunction in the station's wormhole means the space-time continuum might be ripped in two before dinner. Soon Hanna and Nik aren't just fighting for their own survival; the fate of everyone on the
Hypatia
—and possibly the known universe—is in their hands.
But relax. They've totally got this. They hope.
So that's everything that I read in the month of March, even though I'm working on a couple more and today is the last day, I wanted to share with you guys these books. I honestly would recommend these to anyone and everyone, I was really pleased with everything I read this month and I'm 5/25 for my yearly goal!