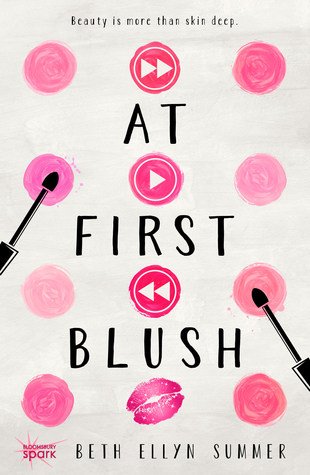 At First Blush
by Beth Ellyn Summer
Publication Date:
April 4th, 2017
Publisher:
Bloomsbury Spark
Age Group:
Young Adult | Contemporary
Pages:
340
Overall:
★
★
★
★
✩
Who would have thought that a teenager could have a successful career creating makeup tutorial videos on YouTube? For Lacey Robbins, this dream has been her reality. An up-and-coming YouTuber, she has thousands of fans and can't wait for the day when her subscriber count reaches the one million mark. And when she is offered a high school internship at On Trend Magazine, she figures that this could be the make it or break it moment.
But sometimes your dream job isn't all that it seems. Her editor is only interested in promoting junk products, and her boss in the Hair and Makeup department introduces her to the larger world of makeup artistry, making her wonder if making tutorials online is all she is meant to do. To top it all off, when the magazine's feature subject , musician Tyler Lance, turns his broodingly handsome smile her way, falling for him could mean losing her fans, forcing her to make a decision: her YouTube life or her real life?
At First Blush gave me so much more than I expected when I received this book for review. I have to say I'm pretty obsessed when it comes to Youtube, and since I don't have cable most of my time is spent watching Youtube videos of pretty much any kind. So when I heard what this book was about I knew I had to give it a try and sent it a request. What I didn't know what how good of a read it was going to turn out to be.
Lacey Robbins is an up and coming Beauty Guru on Youtube who scored a summer internship at one of the hottest magazines in the country. She's one of three Youtubers that gets the chance, and happens to be the smallest channel of the three as well. She sees this as being her big break to get a possible contract with Glass Cube, which is the company behind all the big Youtubers that offers people to help make your videos as well as a place to record them.
There is a downfall to Lacey's summer plans to rise to fame though and he goes by the name of Tyler Lance. Tyler is the big secret guest feature for the issue of On Trend that Lacey and the other Youtubers are working on. The magazine is busting it's butt to try and make is image better than the prior known drunk tool that Tyler had let his image become. So not only is Lacey stuck around him, but she's also stuck working with him to make videos on her channel.
Beth did such a wonderful job giving insight behind what a Youtubers life really is. It was so nice to see Lacey as a normal person and how much work she put in to her videos and how stress affected not only her life but even her Youtube channel. Seeing her ups and downs and BIG hic-ups along the way made it so easy to connect to Lacey even without being any part of the Youtuber community.
Not to put down Tyler as a character either. His development through the book really made it easy to feel for him, even if he was a big teenage heart throb. Seeing his interactions with Lacey slowly melted my heart and in the end I found myself yelling at Lacey for some of the decisions she was making with her life. But to be honest, she is just a teenage girl navigating life and trying figure out what she really wants, so I can't hold everything against her.
If you're looking for a good contemporary read with an interesting story that's something you haven't read before, I would highly recommend checking out At First Blush. It was a very nice fresh of breath air in the normal teenage contemporary genre and is definitely worth the read!